The Ram Heavy Duty trucks boast advanced technology and convenience features and class-leading capabilities that help you get the job done at a competitive price! That rings true with the unveiling of the 2019 Ram HD Chassis Cab commercial trucks! In the 2019 model year, the Chassis Cab trucks are available in three variations: the 3500, 4500, and 5500. These models are the start of a new generation of work trucks that come equipped with never-before-offered comfort, technology, and capability. Ram engineered these trucks for efficiency, up-fitter friendliness and to handle unforgiving duty cycles. Keep reading to learn more about the incredible Ram Chassis Cab Trucks!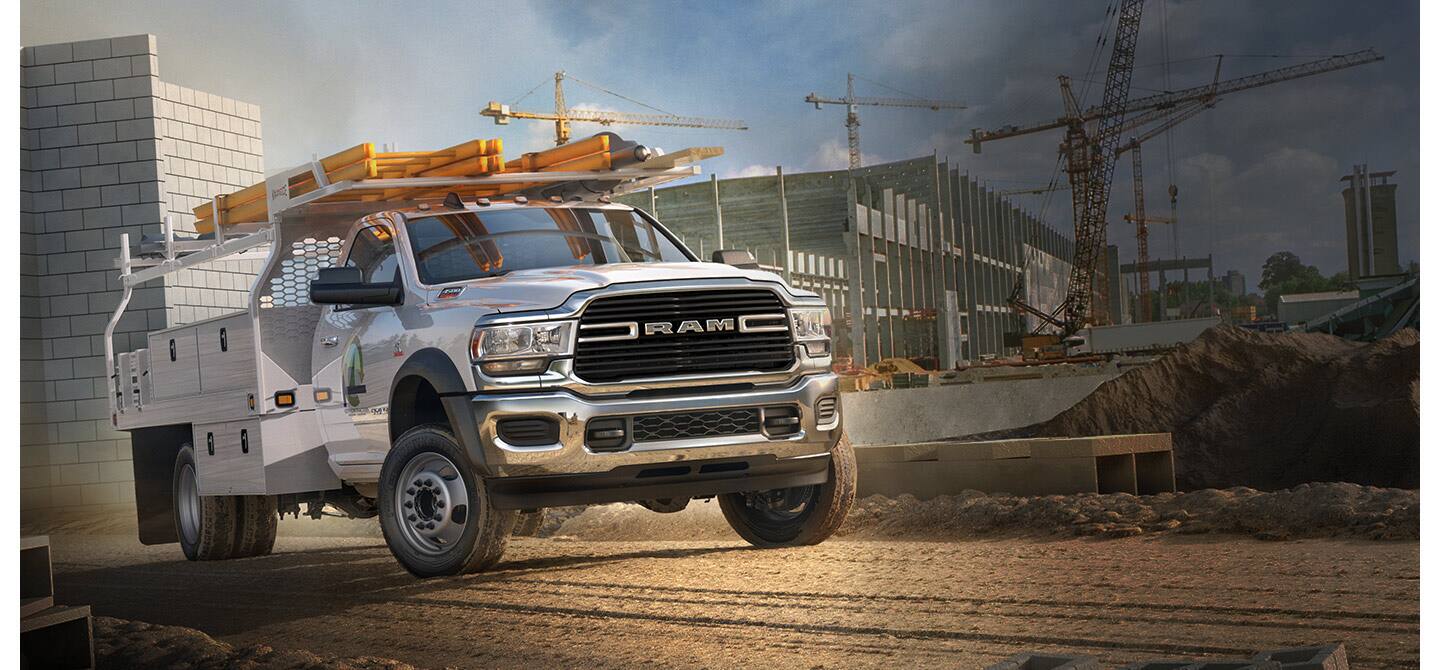 Can you tell me about the Chassis Cab truck capabilities?
Ram understands that Chassis Cab truck owners push their trucks to the limits to get the job done. That is why they bumped up the capabilities, creating a truck that owners can rely on, job after job. The Chassis Cab Ram trucks boast a segment-leading towing capacity, maxing out at 35,220 pounds and the highest Gross Combined Weight Rating of 43,000 pounds. When it comes to payload, the Chassis Cab models max out at 12,510 pounds! 
What kind of powertrain do the Chassis Cab trucks utilize? 
The standard engine for the 2019 Ram 3500, 4500, and 5500 Chassis Cab models is a powerful 6.4-liter Hemi V8 that deploys up to 410 horsepower and 429 pound-feet of torque. The 3500 models are enhanced with Fuel Saver Technology to increase the truck's fuel economy with cylinder deactivation. This engine comes mated to a TorqueFlite 8-speed automatic transmission. The Ram 4500 and 5500 Chassis Cab models utilize a version of the same engine pumping out up to 370 horsepower and 429 pound-feet of torque. Paired to this engine is an electronically controlled 6-speed automatic transmission. You can find more power with the available significantly updated Cummins 6.7-liter inline-6 turbodiesel. This engine generates up to 360 horsepower and 800 pound-feet of torque when paired with the Aisin AS69RC electronically controlled 6-speed auto transmission. 
Can you talk about the engineering behind the 2019 Chassis Cab models? 
The 2019 Chassis Cab models are built with up to 97% high-strength steel and 8 separate cross members. There are four industry-standard frame lengths to choose from the 2019 model year. The length is determined by the inches from the cab to rear axle. The four lengths include CA 60, CA 84, CA 108, and CA 120. When it comes to upfitting, the Chassis Cab models come outfitted with a C-Channel design with a flat mounting surface. This makes uplift and accessory installation and design easy, reliable, and cost-effective. There are also pre-drilled holes throughout the structure, making it easy to mount hardware. Ride quality is improved thanks to C-pillar body hydromounts and tuned powertrain mounts. The Chassis Cabs models also offer a best-in-class Vehicle System Interface Module which is able to communicate between various factory modules and aftermarket modules. This system offers more than 70 inputs and outputs for lighting controls and so much more! 
What kind of features do the Chassis Cab models come with?
There are four Chassis Cab trim levels available for the 2019 model year. They include the Tradesman, SLT, Laramie, and the brand-new Limited model. Many of the exterior design elements are shared with the Ram Heavy Duty models, making the Chassis Cabs ultra bold and sleek. There are all kind of impressive features available for 2019 including a Harman Kardon audio system that comes with 17-speakers and an 8" subwoofer, a 12-inch fully configurable touchscreen with tailor-made graphics for different Ram models. The new, more ergonomic switch bank now offers push buttons with up to 5 auxiliary switches. Push button start and a rotary e-shifter dial are standard on every trim level. There are five USB ports available to keep everyone fully charged and 115-volt outlets to keep your tools battery's fully charged. The Chassis Cab models also offer an array of passive and active systems to protect both drivers and passengers. Stand out features include Automatic Emergency Braking, Adaptive Cruise Control and so much more! 
The 2019 Ram Chassis Cab models are ready to get to work! Learn more about these incredible trucks and all that they can do by checking out our
online inventory
. You can also learn more down at the dealership with our sales associates!